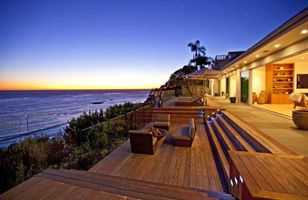 Buying your primary home is like achieving an essential piece of the American dream. And once you've experienced the satisfaction of homeownership, you might be tempted to purchase another. Hey, who wouldn't want a vacation getaway—especially if you can turn it into a cash cow by renting it out?
While vacation homes can be an excellent source of income, managing them isn't as simple as washing the sheets and posting a listing on VRBO Airbnb and/or HomeAway. Avoid these mistakes, and you'll soon be on the road to vacation home heaven. And, hey, maybe we can come stay once in a while?
1. Not checking the local regulations on renting
You'd think this would be obvious—but it's something that often gets overlooked and it can be a big gotcha for a lot of people.
Before committing to a purchase, check homeowners association rules and city or municipality regulations. Your real estate agent should be able to help—but make sure you've picked a pro who's familiar with vacation rentals.
You might be tempted to skip this step, because you see other folks renting out their homes nearby. But beware some communities have restrictions on the total number of rentals permitted in the community at any one time— you could face hefty fines if your property isn't approved to be rented and you get caught doing so.
2. Not being picky about your management company
Guests are paying their hard-earned money to stay at your place instead of the traditional hotel down the block. This means it's your responsibility to keep the place clean and manage the arrival and departure of guests—as well as any problems that arise along the way. And while you certainly can manage those details yourself, you might want to consider outsourcing them.
A lot of people get into and find out it's quite a bit more work than they thought… managing a vacation rental can feel like a pseudo part-time job.
This is where a management company comes into play. But don't choose a company based on which takes the lowest percentage cut, and be wary of the ones that charge a ridiculously low rate.
They might be absentee, unskilled marketers, and you want to make sure your investment is well represented and protected. When evaluating potential managers, we recommend asking to see five more of their properties—on the spot, with no warning. That way, you'll be able to see how clean they keep each home, without giving them a chance to scrub beforehand.
3. Being thrown off by a furnished home
Many vacation homes are sold furnished, so don't be turned off by one that needs a makeover.
Buyer can frequently get excellent deals on a vacation home because the seller's decorating taste were iffy.
Think of that garish wallpaper as a gift: It might throw off other buyers and nudge the price down, while you—the smart buyer—can just peel it off.
4. Buying to please yourself
We know the idea of having your own personal getaway, surrounded by all the things you treasure, is basically living the dream. But we've got some bad news: If you're looking to rent out your property, your tastes simply don't matter.
You want something that aligns with the market and what renters are likely to be searching for. For instance, one- or three-bedroom homes rent better than two-bedroom properties.
Pay attention to what works in the vacation rentals nearby: Are buyers gaga for lake views or furnished porches? Spend your money on that, instead of making the home comfy according to your own standards.
5. Viewing it as a hobby
Sites like those mentioned above have made renting out vacation homes a relatively painless process—while being fun at the same time. But that doesn't mean you can treat managing your vacation home as a hobby.
Sure, you could post some photos and get up and running right away. But you'll be better off taking your time and making sure you didn't miss anything that could throw your would-be vacationers for a loop. Quite simply: You'll want to go above and beyond—providing amenities, guidebooks, and around-the-clock service.
If you charge a nightly rate that is competitive with a hotel, you're responsible to deliver a hotel-like service. It's critical that you run your vacation rental like a business.
If you, or someone you know is considering Buying or Selling a Home in Columbus, Ohio please  give us a call and we'd be happy to assist you!
The Opland Group Specializes in Real Estate Sales, Luxury Home Sales, Short Sales in; Bexley 43209 Columbus 43201 43206 43214 43215 Delaware 43015 Dublin 43016 43017 Gahanna 43219 43230 Grandview Heights 43212 Hilliard 43026 Lewis Center 43035 New Albany 43054 Pickerington Powell 43065 Upper Arlington 43220 43221 Westerville 43081 43082 Worthington 43235