Inventory finally inching up in central Ohio
Central Ohio housing inventory finally began inching up during the month of April, with the total inventory coming in at 5,361. This is a 1.2% increase over the previous month, though still down 23.4% from April 2015.
There were 3,910 central Ohio homes and condos added to the market during the month of April, up 11.8% over the month of March, although a slight decline of 2% from April 2015.
Sales prices also continued to climb reaching record highs again in April. The average sales price of a home in April was $202,393, a 9.5% increase from the previous year and a 5.7% increase over March. The median price in April was $169,900, a 7.5% increase from a year ago.
While some sellers have been waiting for the spring or higher sales prices, activity is on the rise. More homeowners have begun listing their home for sale in an effort to take advantage of today's prices, as well as historically low interest rates. Many of these home owners are looking to purchase a home that is bigger or smaller, in a different neighborhood, or a home with more lifestyle features they don't have in their current home, for example energy efficient construction materials and appliances that reduce the overall cost of ownership, or high-tech smart homes with wi-fi enabled systems.
Mortgage rates recently hit the lowest point in 3 years. This drop in rates offers home buyers nearly 6% more buying power than they had at the end of 2015. Realtor.com's Chief Economist Jonathan Smoke predicts that rates will likely remain attractively low, yet volatile as we enter the peak home-buying months of the year.
Federal Reserve policymakers are increasingly signaling they are ready to nudge up a key interest rate.  Fed Chair Janet Yellen added to the speculation recently saying that if the economy continued to improve as she expected, then it would be appropriate to "gradually and cautiously" raise the benchmark rate, "probably in the coming months."
There were 2,671 central Ohio homes and condos sold last month, a 13.1% increase over the previous month and a 6.5% increase over the same period in 2015.
During the month of April, homes spent an average of 52 days on the market, which is 7 days shorter than March and 10 days shorter than the same month last year.
The months supply of inventory during April in central Ohio was 2.0, which remained the same as the previous month, although is 31% lower than a year ago. The months supply is calculated by taking the amount of inventory divided by average monthly sales over the last 12 months. In other words, if no more homes were added to the market, it would take about 2 months to sell all of the homes and condos currently for sale in central Ohio.
Even with the increase in inventory, the number of homes for sale is still low for central Ohio which increases competition for the homes that come on the market. Buyers need to be prepared to act quickly and purposefully if they find a home they wish to buy.
When asked what is keeping home owners who want to sell, from putting their house on the market, 92% percent said the lack of homes to buy after their present home is sold. If you are one of these owners call us today to learn how we can assist you in locating a home to buyer before you sell, and possibly a buyer in place to purchase your home once we've identified your new home! Fifteen percent are waiting to sell for a higher price.
SALES UP IN NEARLY EVERY PRICE RANGE
The National Association of Realtors' most recent Existing Home Sales Report revealed that home sales were up rather dramatically over last year in five of the six price ranges they measure.
Only those homes priced under $100,000 showed a decline (-4.6%). The decline in this price range points to the lower inventory of distressed properties available for sale and speaks to the strength of the market.
Every other category showed a minimum increase of at least 4.6%, with sales in the $250,000- $500,000 range up 15.2%!
Here is the breakdown: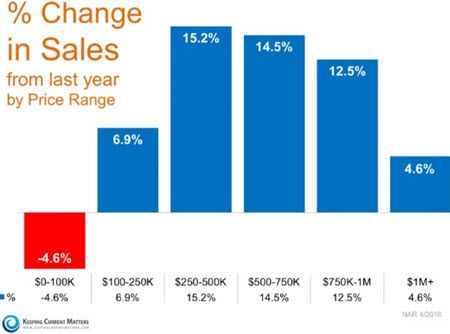 Current housing report – April 2016
All housing reports
If you, or someone you know is considering Buying or Selling a Home in Columbus, Ohio please contact The Opland Group. We offer professional real estate advice and look forward to helping you achieve your real estate goals!
The Opland Group Specializes in Real Estate Sales, Luxury Home Sales, Short Sales in; Bexley 43209 Columbus 43201 43206 43214 43215 Delaware 43015 Dublin 43016 43017 Gahanna 43219 43230 Grandview Heights 43212 Hilliard 43026 Lewis Center 43035 New Albany 43054 Pickerington Powell 43065 Upper Arlington 43220 43221 Westerville 43081 43082 Worthington 43235