Facing Foreclosure?
Whether You're Facing a Hardship, or Just Owe More on Your Home Than It's Worth & Aren't Sure What to Do?
You Have Options… And We Can Help!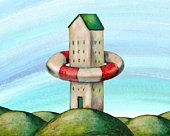 Facing the possibility of losing your home to foreclosure due to an inability to keep up with your monthly mortgage payments is one of life's most unpleasant experiences. It's also an event that continues affecting you long after your home is history by devastating your credit and creating the risk of the bank pursuing you for a deficiency judgment for the losses they incur. Occurrences such as: the loss of a job, job relocation, serious illness, a major accident, or divorce cannot be foreseen and can happen to anyone. The good news is there are alternatives to foreclosure and we can help!
If you're facing foreclosure you're facing some important decisions and you'll need guidance from someone who not only possesses an in-depth knowledge of the foreclosure process and significant experience negotiating with the banks, but also someone who understands the difficult choices you are facing about your home, your family, and your life. Quite often homeowners facing foreclosure think they have to go through the process alone but by tapping into the expertise of a knowledgeable real estate agent, a service that is completely free to you, you'll discover there are options and alternative to foreclosure!
Get started now… And let us show you what options you have and the alternatives to foreclosure! We've shared a great deal of information here on our website and you're invited to read and learn. When you have a question – or when you're ready for free and confidential KNOW YOUR OPTIONS CONSULTATION – we are standing by.
We encourage you to take advantage of our experience and allow us to assist you in making the most informed decisions you can, every step of the way!
The following links provide useful information and are a great place to start if you're facing foreclosure
Lender / Bank specific Short Sale information and documentation